So I get a call from Petra a few weeks ago, and just for the heck of it, I ask her if she wants to help me move my boat to a marina nearer to work. Erik's going to be out of town this week, and I'd been wanting to to do the 'camping near work' – bit with it for awhile now. Living a 30 minute drive away isn't as much a killer as some of the drives I'd made to work in the past. But it's nice to be able to listen to the traffic report and laugh because you don't have to worry about all the problems they're reporting.
Anyway, she said she'd love to, and to give her a call back the weekend before so we can arrange for transportation. She asks where we're moving it to, and I tell her it's a marina about 5 miles from work.
I called her on Sunday and told her I had a ride home from work so I could leave my car at the marina. That way, I could give her a ride back to hers at the other end.
This morning arrives and I find that I have both her and Dave along. Hooray! I would have loved having a day with Petra alone. But Dave is one of the three people who taught me most of what I know about sailing, so it's always a pleasure to have him around.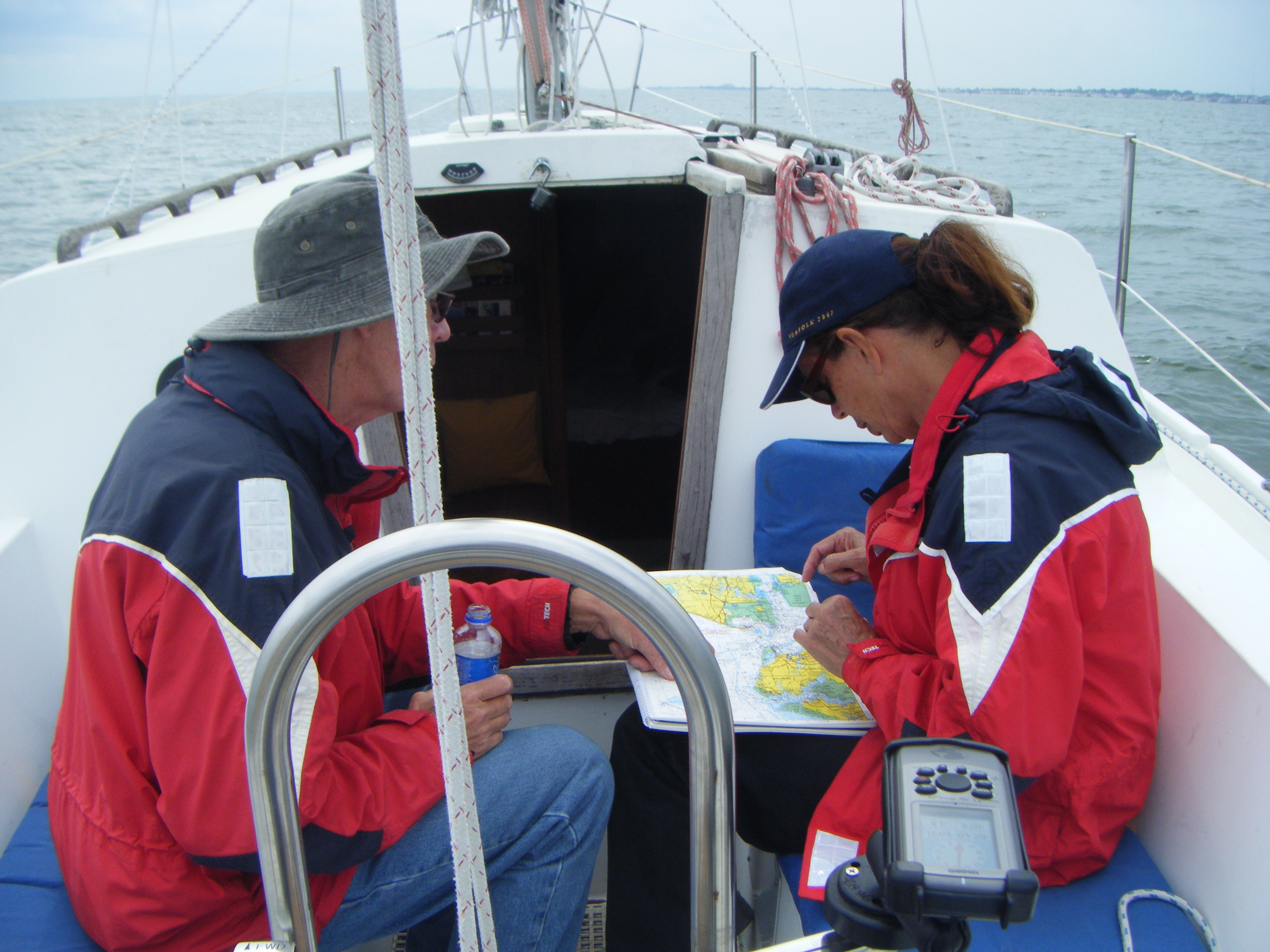 So we start preparing the boat to take off and Petra asks where, specifically, we're going. I show her on the charts and she's a bit taken aback. She thought, when I said 'about 5 miles' that I meant we were taking the boat to a place 5 miles from where it was now. Nope. It's actually about 40 miles away. Well, she laughed. Luckily, she's retired and Dave is semi-retired, so taking the whole day to do this wasn't a big problem.
I had checked the weather report the night before. Partly cloudy with scattered showers. Winds 10 – 15 mph. I didn't check it that morning, but I looked at it again on my Blackberry. Same report.
Well, the sky was overcast that morning as we left. But usually a weather report like that means it will burn off by noon or so. But it wasn't to happen today.
We took off around 9 a.m. There wasn't any wind to speak of going down the York River. It picked up some by the time we reached the bay. But we were going straight downwind, and didn't want to veer and add to the mileage. So no sails yet. We hoped, however, when we reached the James River we could put them up, since we'd be heading off at a different angle.
We could see a storm ahead of us towards Hampton. We hoped it would be gone by the time we got there. Well, it was gone from Hampton!
As we approached the Chamberlain Hotel, before crossing over the Hampton Roads Bridge Tunnel, Petra called her daughter, who worked over at the local community college. She said there was a pretty bad storm over her way.
Partly cloudy. Scatter showers my @#$%.
We did put the sails up as we crossed the Bridge-Tunnel. But before we reached the Monitor Merrimac Bridge-Tunnel, the rain started. And it was coming down hard! I thought we were getting hail! Luckily, Petra and Dave had brought along rain jackets. I, of course, had my foul weather gear aboard. I also have a ton of extra stuff that was left by the previous owner (well, some of the stuff the left is useful!), and I loaned Petra a pair of rain pants.
So we were set. We took down the sails. Then the lightning started. And that's when I was very glad that Dave was along. He knew about a pullout near the Monitor Merrimac Bridge where we could wait out the storm, which is just what we did. We parked and I pulled out some butternut squash soup I had aboard and we had lunch while the storm passed.
Bad thing about this whole experience was that our timing was then pretty far off. We hit the Nansemond river just as the sun was beginning to set. By the time we got to Bennett's Creek, our final destination, it was dark. Cloudy skies. Last quarter moon. Luckily, there was enough light from the surrounding houses that we could at least see a little bit.
And, of course, there were shallow spots. But (pat, pat), I didn't hit bottom once! Came close though. The James River current is pretty strong. Trying to stay the course when entering the Nansemond River was nigh to impossible.
We had one more white knuckle moment. We had to pass under some high voltage power lines. And, in the dark, it was hard to see if we were going to make it or not. As you can tell, since I'm writing this, we did.
I offered to take Dave and Petra to dinner, then renigged on the offer. I was plum tuckered out. But I did give them a rain check!
Well, we missed the brunt of the storm and came through ok. Of all the things I did, the fenders helped the most. The pilings on the starboard side of the boat were rubbed raw. Luckily, the rubbing was against my fenders and not against the side of my boat!
Yesterday, though, was the first time I inspected the galley. Chip joined my for a sail, and brought along some snacks. So I went to get some plates and cups. I found my paper bowls all mildewy, and the entire shelf smelling musty. Later that night, I was having dinner on the boat and found some of the pans filled with slimey liquid and that cupboard, too, smelling musty. Not sure where the water is leaking in to get under there.
The couscous was damp and had to be tossed, and so were the banana chips. The latter was probably a matter of sitting on the boat too long. But the former, as well as the paper bowl problem has taught me to better utilize plastic bags for storing things I don't want to get wet!
[Top]
Tropical Storm Hanna is on her way. As I write this, she's just off the coast of South Carolina and expected to make landfall. She's expected to give us 20 – 55 mph winds (depending on the current forecast) and a 2 – 4 ft. tide surge.
First notice I received that I needed to consider doing something about my boat was from the marina. They have a list of owners who want their boats hauled out immediately in case of a hurricane. That means they'll be the ones getting first dibs on the space available. Since Hanna wasn't (isn't) expected to be that strong, there wasn't going to be an automatic haul-out. But they would take it out of the water if I wished. I didn't think it was necessary.
Next notice was an email from my insurers, BoatUS, who suggested I read about Named Storms in my policy. Okay. Here goes…
The applicable deductible amount showin on the Declarations Page will be subtracted from each loss. It will not apply in the event of a total or constructive total loss.

However, in the event of any loss caused directly or indirectly by a storm named by the National Oceanic & Atmospheric Administration (NOAA) and if your bot is located in the state of VA, FL (and about 1/2 a dozen other states)

…. blah blah blah….
Basically, the deductible is bigger if NOAA deems the storm namable. You can reduce that amount if you have the boat on dry land and it's lashed down and the sails are removed.
What to do, what to do.
Next I heard from Dave, who suggested I add extra lines to hold my boat, lashing down the boom, and removing the sails. Of any advice I receive, I tend to put Dave's first.
So, Thursday night, I headed over and talked with some of the other owners who were preparing their boats for the storm. They were tying down their roller furlers, rather than removing the jibs, and doing the same to the mainsails. I did the same. I also lashed the boom to the aft port and starboard cleats. I put all the fenders out. At one owner's suggestion, I put a line from the transom (I'm parked transom in) to the cleat on the slip a couple away from mine. He said there wouldn't be anyone around to trip over it (hope he's right!). So I did that, too.
Now to wait a couple of days and hope it all works well!
[Top]