That's my question for the day.  Hurricane Ida took a stroll up from Alabama to hit us here in Hampton Roads, Virginia yesterday.  We were expecting strong winds and rain, but nothing too terrible, I thought.  What we got was 60 – 75 MPH winds (that's category 1, folks) and flooding.
I always wondered how you could get flooding in a coastal town.  The water drains into the ocean, right? So how can it flood?  Well, it so happens that the wind pushes so much water in that the inland water can't get out.  Or that's at least what my brain understands.
Interesting effect, too. Wednesday, the marina calls and asks if I can tie down my boat.  If I can't, they'd be happy to do it for me.  They're quite capable.  They do great work.  But it is my boat.  So I went to West Marine to get some new dock lines to replace the ones I had on the stern that we getting worn, and to get a couple of extra long ones as well.  Then Erik and I headed down to the boat to tie her down a bit more and tell her she was going to be all right.
That night, after work, about 7 p.m., I went to check to see if everything was ok.  The docks were under water.  Not sure how much: the lights weren't working.  But enough that I didn't feel comfortable heading out in the dark to check on it.
Next morning, someone from work suggested I stay home that day because the water was splashing against the Monitor-Merrimac bridge.  That meant the James River had to be awfully high at that point.  I pulled up the Tides at the Coast Guard Training Center (see link above).  The diagram showed the tide had been consistently 4′ above normal since the night before:
Note: this covers 11/11 – 11/13/2009 –
The Coast Guard Training Center is across the creek from the marina.
Erik and I drove out yesterday.  There were barriers up to prevent folks from walking on the docks.  Did that stop us? Well, we still couldn't get to the boat.  We had to be content from walking on the path above the docks.  Luckily, 4 Degrees looked like she was faring well.
This morning wasn't any better: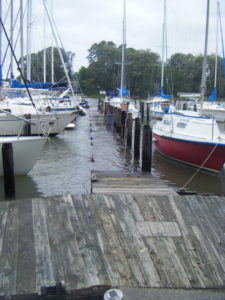 There are supposed to be walkways around there somewhere!
My concern right now is that the batteries haven't gone dead and that the bilge pump is still working.  I'm sure the power has been turned off. But I'll go check tomorrow morning to see how she held up!