The old saying goes that God always helps fools, lovers and drunkards. Well, someone was watching over me last night and this morning.
As scheduled, we towed the boat back home about 2 a.m. As we were motoring out there, the tow boat operator was suggesting that I might want to haul the boat out and take a look at the keel. It would also be good to call my insurance company, in case they wanted to have a surveyor look at it.
I did call them this morning and they added to the towing report the possibility of damage to the keel. They did ask that the repair work being done show the parts and labor separately. Apparently it would help increase what I might have covered.
So we hauled the boat out. And it looked fine. There was no damage to the keel.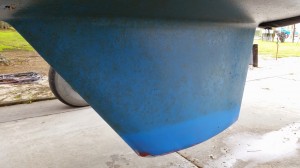 Notice, though, that you can see how far it had sunk into the ground. Nevertheless, I came out lucky.
The fiberglass, however, will require repair: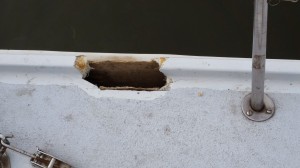 That was the location of the starboard bow cleat.
I'm not sure how much the repair will be. But either my insurance or Tow Boat US will cover what my deductible doesn't.
So, to save myself the cost of not hauling it out to clean it, I had to haul it out anyway.
Next time, I guess I'll just rent a scuba tank.