Woowee! After 2-1/2 months, the boat is back in the water! Hooray! Unfortunately, it wasn't an easy launch. I was most concerned with the new stuffing box. But I guess I should have paid a bit more attention to the new knotmeter as well.
The boat was put into the lift and taken over to the water. Mike, from Wormley Creek, let me check everything out as soon as I dropped it in. I found a dry engine bed, so I put the stuffing box, hose and clamps on correctly. But there was water coming in where we'd put the knotmeter in.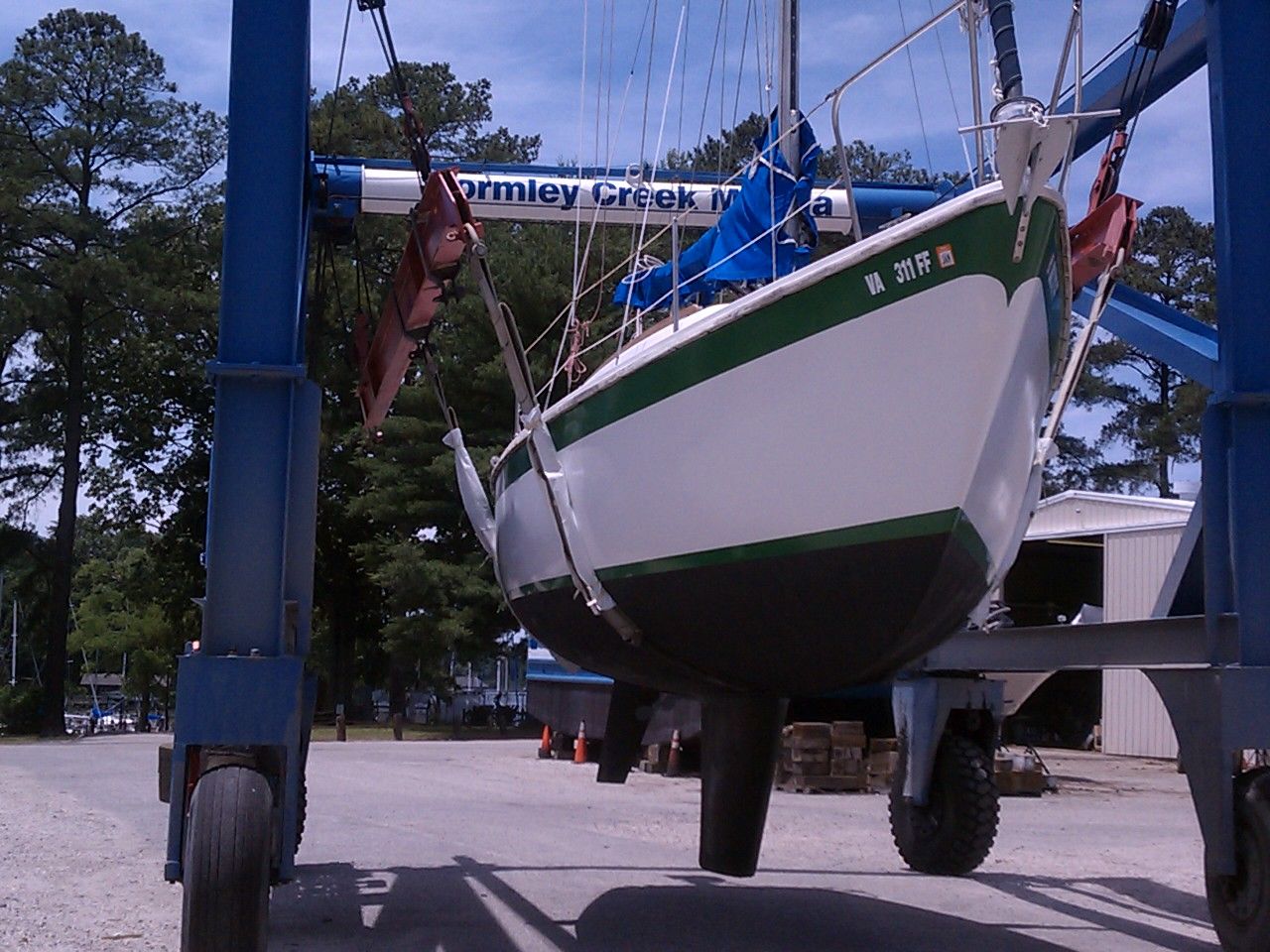 Paul put the male threaded coupler in, gluing it in with 4000 that I had. The directions said to wait for it to dry before screwing it in place, which we did. It also said to add more sealant and hand tighten it into place. I did so. But I guess this wasn't good enough.
Mike pulled the boat back out of the water. He pressed on the fitting and showed that there was alot of play. The 'nut' that I hand tightened didn't put enough pressure to seal it in place. I suspect, too, that we should have put it in while the sealant was wet, instead of following the directions.
We undid the pieces and scraped off all the old sealant. Mike found a tube of 4200 in his shop and placed that on the bottom of the boat, where the fitting would seat. He then handed it up to me and I put some down on the inside, where the nut would seat. He reinserted the fitting and I tightened down the nut, using a huge pair of pliers that he gave me.
But I couldn't tighten it down very far. The hole in the shell on my boat wasn't cut much larger than the hole through the bottom, leaving little room to manipulate. So Mike came up and, while Chris held the fitting in place, he applied the giant pliers and tightened the nut. I then screwed in the knotmeter and took the zinc spray down to respray the fittings.
Mike said that luckily, the sealant cured faster in the water than out. Thank goodness!
Mike then lowered the boat back into the water. This time no leaks!
I started the new electric motor and drove the boat over to her slip and tied her up. Tomorrow, we test out the new motor.
[Top]